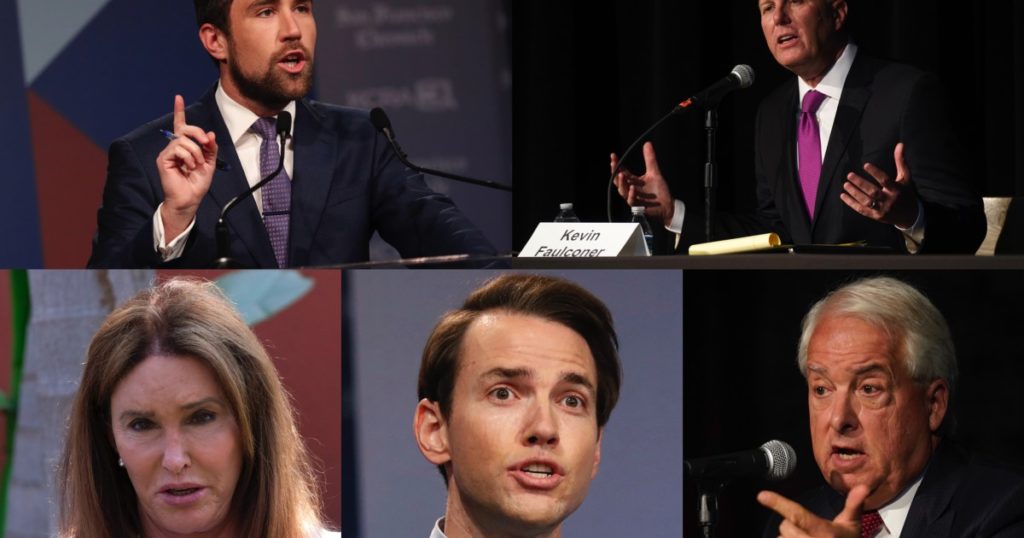 California's unemployment system struggled from the onset of the pandemic, buckling under the pressure of getting benefit payments to hundreds of thousands of jobless residents and losing billions of dollars to fraud. A strike team was appointed by the governor to make recommendations on addressing long-standing issues at the agency, including outdated technology and insufficient staffing. What steps would you take to reform the Employment Development Department that have not yet been taken, and how would you ensure unemployed Californians who still have yet to receive their benefits are made whole? Please be specific.
Cox: As a certified public accountant and businessman, I know about broken systems and how to fix them. We will perform a top-to-bottom audit right away and correct every identified problem. Part of the audit will be making sure every California who deserves help gets it, and that no fraud occurs. We will increase staff and update technology. A human being will answer the phone and help someone when they call. We will appoint new leadership who are focused on the customers and fixing a broken system. We know the system is broken; the politicians just don't have the willpower to fix it. I do.
We will also get politics out of it. We will do a match of Social Security numbers to identify those who would claim coverage but are otherwise ineligible, such as prisoners in our jails. Politics kept California from accessing federal funds for such a matching system with disastrous consequences.
Faulconer: It's not right that hard-working Californians can't get the money they need to pay their bills because of incompetence or negligence. The state's failure to modernize its technology is a product of failed leadership and priorities. The Employment Development Department's problems have been brewing for years, but Newsom has still not made fixing it a priority — his plan to modernize the EDD's outdated IT system is planned to take until 2027 to complete. These problems came up in the wake of the last recession, when Newsom was lieutenant governor, yet few impactful changes have been made during his decade in Sacramento.
Sacramento's inaction will change under my administration. My comprehensive plan for reforming the EDD is one of the first proposals I made when I entered this race. A modernized EDD will have robust fraud protections, the ability to provide Californians direct deposit payments, automated claims processing, expanded call center hours and an effective online customer service portal.
I'll make fixing the EDD the state's top technology project under my administration, dedicating the best minds in state government and engaging the private sector to update its systems immediately. Modernizing its computer systems will help ensure claims are processed more accurately and efficiently, so EDD can better serve Californians.
I will use the full power of the governor's office to ensure more Californians are receiving their benefits, holding the state bureaucracy accountable every step of the way. I will provide 24/7 phone access for Californians until the backlog is addressed and during future times of crisis. I will also hire additional workers to clear unemployment claim backlogs and ensure all staff get the training needed to effectively resolve cases.
Jenner: Gavin Newsom's "strike team" — just like everything else he's done — has been a failure. Hundreds of thousands of unemployed Californians are not getting the help they need while California has lost billions of dollars to fraud.
I am a results-oriented person, and I will require the Employment Development Department to produce results. People's lives are at risk, and this type of fraud puts Californians in danger. Part of the problem is Newsom failed to heed warnings of fraud earlier in the year. As governor, I will take all fraud claims seriously, and each one will be investigated to ensure that we evaluate every dollar spent by our state government provides the return on investment that our people deserve.
Kiley: My team and I were on the front lines of the EDD crisis, working daily to help hundreds of my constituents get the benefits they so desperately needed. It was absolutely unconscionable that so many of the families I represent were not able to get benefits, while people in our state prisons were skimming off billions in taxpayer dollars.
I got to work immediately to demand an audit of the EDD, and I coauthored a package of bills to make urgent reforms. These reforms sought to ensure individual data was protected, cross-check unemployment claims with correctional inmate data, and expedite the time in which qualified claimants received benefits. When the 2020 legislative session ended with no action on the issue, I called for a special session of the Legislature and asked my colleagues to keep working for the people of California.
Unfortunately, Gov. Newsom failed to act with any sense of urgency. He refused to prioritize EDD reforms in his "historic" state budget. The EDD has been working on a "modernization" of its software for 11 years and was woefully unprepared to respond to the surge in demand over the past year. The result has been devastating for millions of Californians who are still waiting for benefits.
Other states resolved similar issues in a matter of days by partnering with the private sector on cloud-based solutions. As governor, I would unleash the power of California innovation to fix our state's most daunting technological problems. I would also put in place leadership that serves the people of California, not leaders who are simply biding their time until they get an opportunity to serve in a national administration.
Finally, it is time that we reform our civil service system in California state government. It is far too difficult to incentivize and reward good performance, and it is even more difficult to let employees go when they are not meeting the demands of the organization. Until we address the root causes of our broken bureaucracy, we will continue to see the same failing results.
Paffrath: The massive fraud and slow payment-processing of the EDD is symptomatic of the disastrous way California handles problems. EDD employees frequently lament the complicated processes, lack of training, and lack of a single system for coordinating payments, leading to extremely slow processing time frames and high fraud. California should have a single platform for the EDD to process payments through, one that's easy to use and easy to train on — then we need to ensure we can eliminate fraud in our payments system. Coordinating with the Federal Reserve at San Francisco or companies like JP Morgan to utilize faster payment processes will be a top priority to ensure Californians receive money fast, efficiently, and we eliminate fraud.
window.fbAsyncInit = function() { FB.init({
appId : '134435029966155',
xfbml : true, version : 'v2.9' }); };
(function(d, s, id){ var js, fjs = d.getElementsByTagName(s)[0]; if (d.getElementById(id)) {return;} js = d.createElement(s); js.id = id; js.src = "http://connect.facebook.net/en_US/sdk.js"; fjs.parentNode.insertBefore(js, fjs); }(document, 'script', 'facebook-jssdk'));