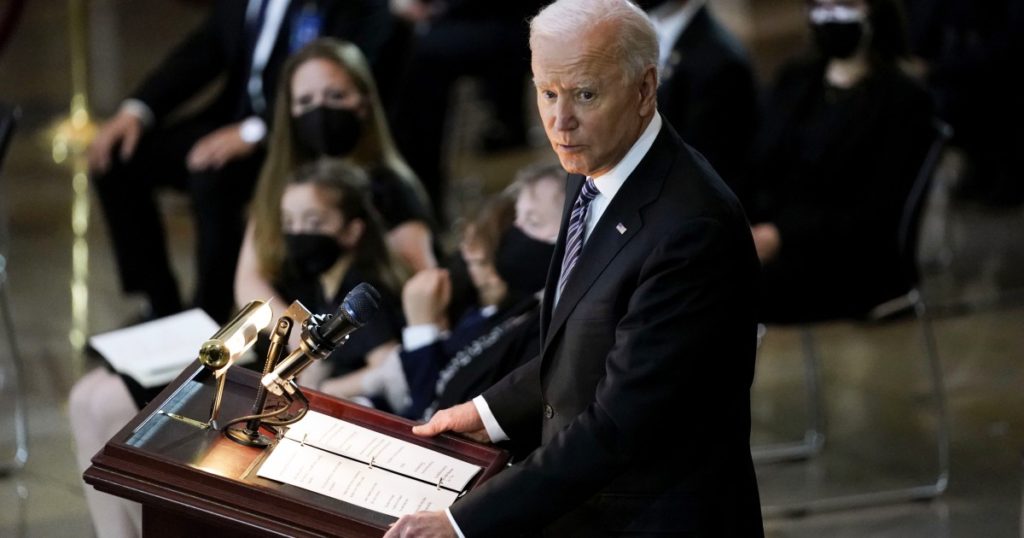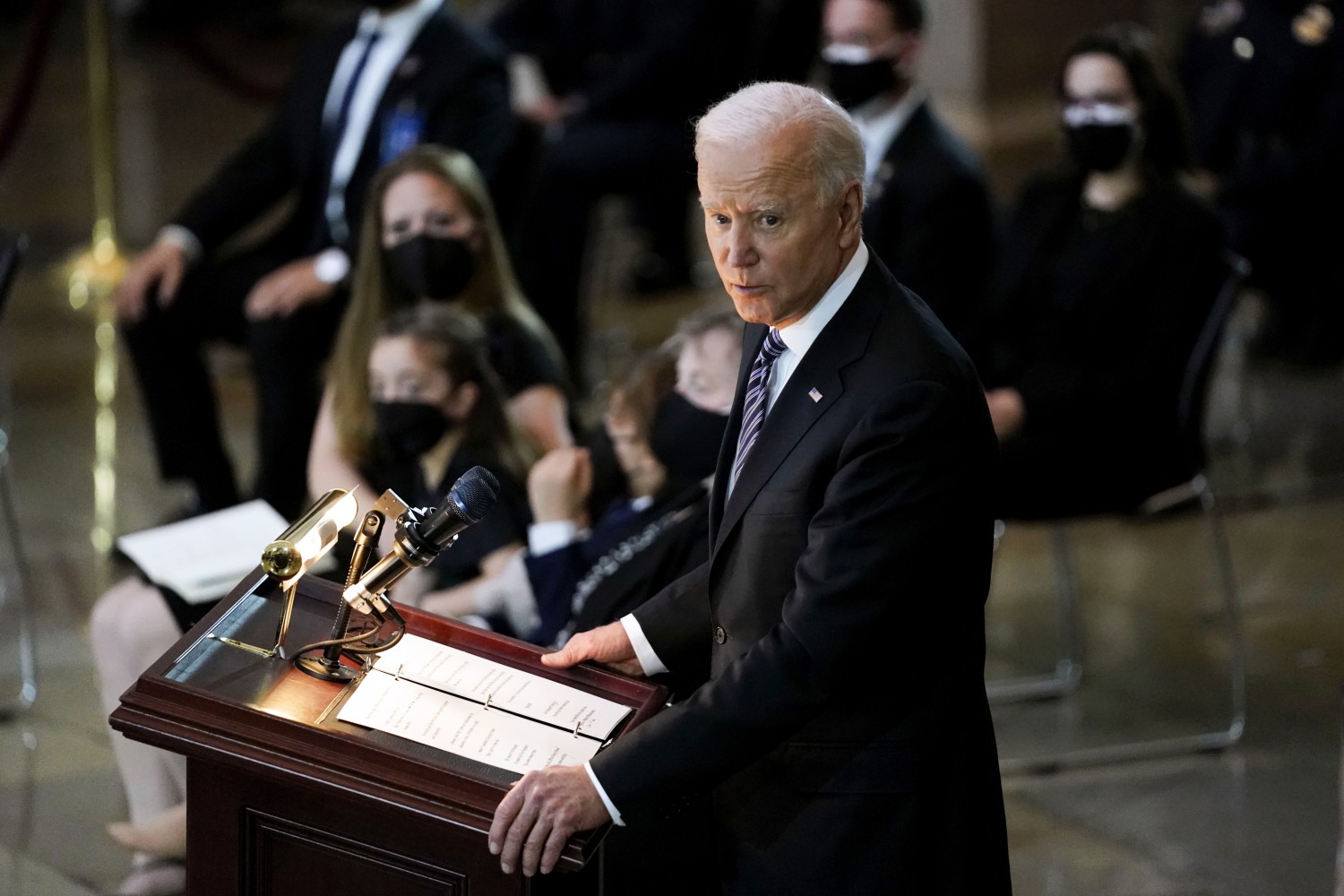 President Biden spoke Tuesday morning with Russian President Vladimir Putin, warning him against aggressive moves toward Ukraine but also inviting him to a summit meeting, the White House said in a statement.
The White House did not say whether Putin had accepted the invitation but said Biden had suggested the summit take place in a third country in coming months.
Biden "voiced our concerns over the sudden Russian military build-up in occupied Crimea and on Ukraine's borders, and called on Russia to de-escalate tensions," the statement said. "Biden also made clear that the United States will act firmly in defense of its national interests in response to Russia's actions, such as cyber intrusions and election interference."
Russia annexed Crimea after seizing it from Ukraine in 2014 and continues to back separatists in eastern Ukraine in an insurgency that has resulted in more than 14,000 deaths since then. In recent weeks, a surge of cease-fire violations in the region, along with Russian troop movements at the border, has sparked concern among U.S. and European officials about the possibility that Russia might invade Ukrainian territory.
Two weeks ago, Biden spoke with Ukrainian President Volodymyr Zelensky and expressed his support in the face of the Russian moves.
In the same conversation as the tough talk over Ukraine, Biden also "reaffirmed his goal of building a stable and predictable relationship with Russia consistent with U.S. interests," the statement said.
In an interview last month, Biden labeled Putin a "killer," prompting an angry reaction from Moscow, which recalled its ambassador from Washington. The administration defended Biden's comment, saying he was being honest in response to a question but also adding that he continued to believe the U.S. and Russia must work together.
In Tuesday's statement, the White House said Biden and Putin had "discussed a number of regional and global issues," including arms control.
A summit between the two men would be the first meeting between the Russian and U.S. heads of state since Putin and then-President Trump held a meeting in Helsinki, Finland, in 2018. In a news conference after that meeting, Trump blamed U.S. officials for worsening relations between the two countries and accepted Putin's denials that his country had interfered in the 2016 election, despite American intelligence findings to the contrary.
In addition to the Biden-Putin call, Secretary of State Antony Blinken held an urgent meeting Tuesday in Brussels with Ukraine's Foreign Minister Dmytro Kuleba. The two met on the sidelines of a NATO ministerial summit.
The administration wanted to reiterate that the United States "stands firmly behind the sovereignty and the territorial integrity of Ukraine," Blinken told reporters ahead of the meeting. "And that's particularly important at a time when we're seeing, unfortunately, Russia take very provocative action when it comes to Ukraine."
"We're now seeing the largest concentration of Russian forces on Ukraine's border since 2014, and that is of deep concern not only to Ukraine, but to the United States, and indeed to many of our allies and partners."
Consultations with NATO allies over Ukraine will continue in the coming days, he said.
U.S. officials have been reluctant to publicly assign a motive to Putin for the aggressive moves toward Ukraine; he may be planning an invasion, they say, or may just be making a show of force. Of particular concern, officials say, is that Russian troops could attack from their current positions on short notice.
"If Russia acts recklessly or aggressively, there will be costs. There will be consequences to that," said Phillip Reeker, acting assistant secretary of state for Europe, who was accompanying Blinken in Brussels.
"What we're focused on now is discussion and meeting with our allies and others who are equally concerned," Reeker said. The U.S. was working with the Vienna-based Organization for Security and Cooperation in Europe "to try to address those concerns and see de-escalation by Russia in terms of not only the military threat, but also this disinformation and the rhetoric that's flowing," he added.
The OSCE is a much wider grouping than NATO, with 57 member countries including Russia and Ukraine.
window.fbAsyncInit = function() { FB.init({
appId : '134435029966155',
xfbml : true, version : 'v2.9' }); };
(function(d, s, id){ var js, fjs = d.getElementsByTagName(s)[0]; if (d.getElementById(id)) {return;} js = d.createElement(s); js.id = id; js.src = "http://connect.facebook.net/en_US/sdk.js"; fjs.parentNode.insertBefore(js, fjs); }(document, 'script', 'facebook-jssdk'));